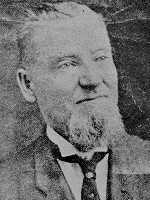 In the 125 years the company has been in business there have been only five Executive Secretaries. Two of these, Hugh B. Major and Ten Eyck Major were father and son. Together they comprised 102 years of service to the company.
Hugh B. Major was born August 11, 1835 in Perth, New York, the son of John and Jane Major. In the early 1800'S his father, John Major, bought a farm on the Perth-Johnstown road that remained in the family for 157 years. The picturesque farm house was the home office of the insurance company for 99 years.
Hugh B. Major joined the company as an agent on June 3,1856. As an agent he covered the countryside, talking the advantages of the co-operative effort, sometimes afoot and at other times with his horse and wagon. The two counties offered a lot of territory to cover, but he maintained a regular schedule of travel and he believed in his product. Sometimes it took a half-day to sell a membership policy. It has been said that frequently Mr. Major helped with the farm chores while he was talking, as his prospect had no time to sit down and listen. By the 1870s, fire insurance coverage of approximately $6 million had been written, a remarkable gain over the $660,000 of 1855. Due to the efforts of Hugh B. Major, the idea of "mutual insurance" caught on throughout Fulton and Montgomery counties.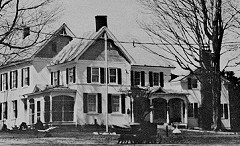 On March 2, 1858, Hugh B. Major was elected Secretary-Treasurer of the Association and served in that capacity until his death on April 24,1907. He was an uncompromising Republican and held many offices in the Town of Perth, including that of Supervisor.
Ten Eyck Major was born November 4, 1872, and "grew up" in the Association. He was officially recognized into the business in 1906, when he was named Assistant Secretary. Upon his father's death, he assumed the responsibilities of Secretary-Treasurer. Ten Eyck Major remained in that position until his own death on December 1, 1957. He followed in his father's footsteps by continuing the development and growth of the Association.
This company was fortunate in having two such dedicated and progressive men as Hugh B. and Ten Eyck Major serve them.